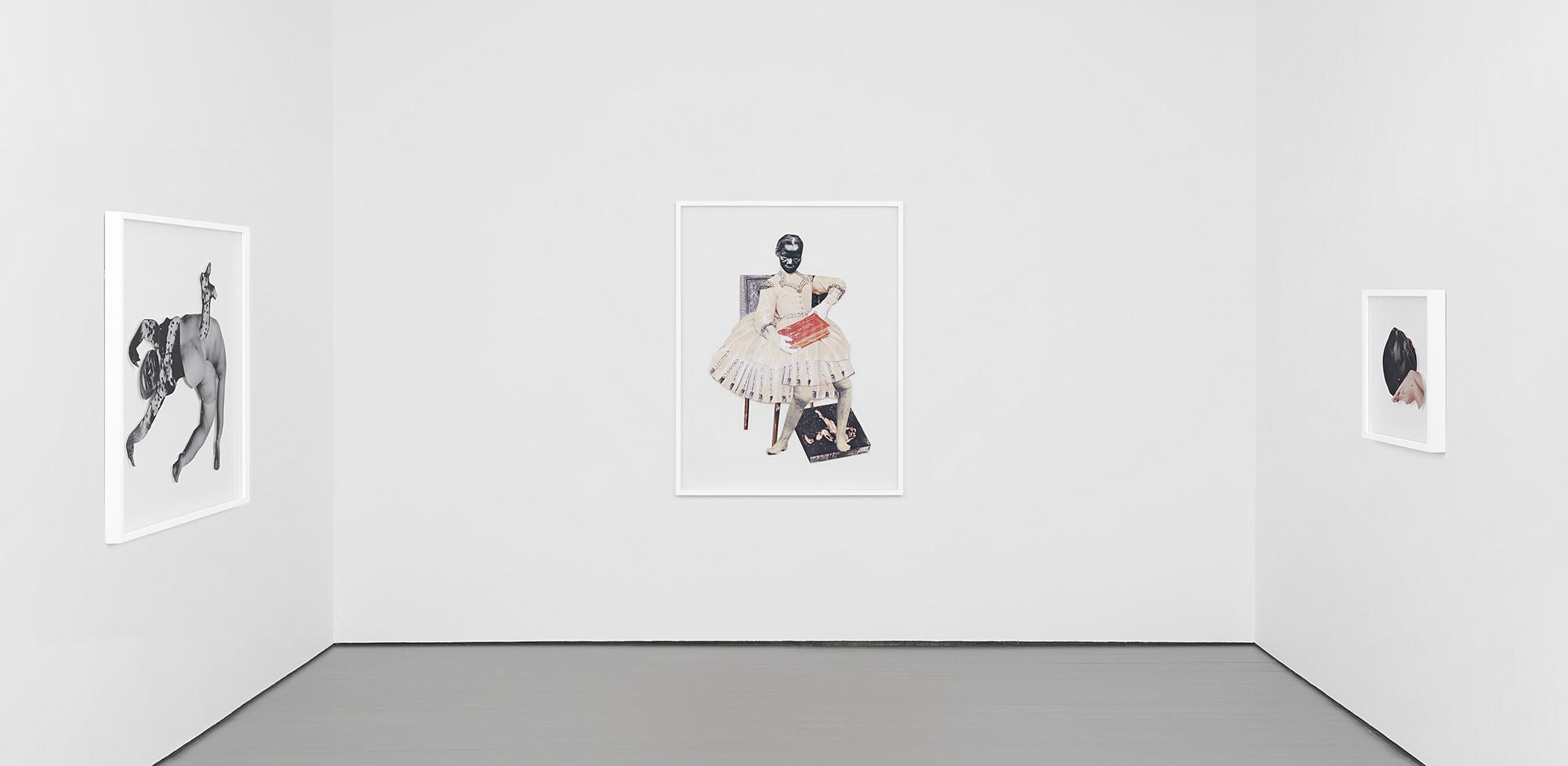 Frida Orupabo, Hours After, 2020, installation view
STEVENSON is pleased to present Hours After, Frida Orupabo's first solo exhibition on the continent. The exhibition opens on Saturday 17 October at 10am at our Johannesburg gallery as well as online - click here to view presentation.
Schedule a visit to the gallery
-
Orupabo describes her process as an unearthing of the archive, mining 'the interaction and clash between past and present, self-representation and imposed representation'. The title, Hours After, makes reference to the 1986 album by experimental American composer Sun Ra, while alluding to temporal shifts in the lives of the materials and subjects that inform Orupabo's collages.
In this new body of work, spanning sculpture, film and works on paper, Orupabo combines fragments of colonial, personal and modern archival material sourced from digital and analogue media to disassemble the politics of care, childbirth and mothering through the perspective of Black womanhood. Hints of pale colour are introduced to Orupabo's traditionally monochromatic repertoire, and domestic furnishings, once peripheral items in her tableaux, take on greater significance as she centres the contexts of her individual figures. She states:
I think it's important sometimes to ground the people that I'm working with, ground them and put them into a place with their own narrative, history and feelings and everything that is attached to that. It may just be a bed and a drawer but it is also linked to something very familiar that speaks about the history or experiences, which are my own. I am in many ways living through them.
In an attempt to reconcile her own experiences of childbirth and newfound motherhood, Orupabo began to delve into stories of other Black women's encounters with the healthcare system. In The Belly of the World: A Note on Black Women's Labors, Saidiya Hartman writes: 'what is created and what is destroyed has been explicated by way of gendered figures of conception, birth, parturition, and severed or negated maternity ... the theft, regulation and destruction of black women's sexual and reproductive capacities [has] also defined the afterlife of slavery'. For Orupabo, this view of the politics of reproductive labour initiated a deeper questioning around the power dynamics present within spaces of care, and how this could undermine agency and feed misogynoir – the racialised misogyny directed towards Black women. The artist continues:
You read all these things and you attach it to your private sphere and you realise what you already know – that the personal is political and everything is linked together. You are not outside of society and history. I've been thinking a lot about that while making the work, looking into all the connections and diving into my own experiences … There's something about labour and having a child – I found myself in a space that I was not familiar with. I felt I lacked control and power. I think it also has something to do with the whole process of getting something out from your body and having equipment and different people's hands stretching and pulling, making you stand in painful positions. In the aftermath, this experience made me think a lot about the (mis)treatment of black female bodies in the healthcare system, past and present.
Hours After brings subjects to form through an assemblage of disparate limbs and objects pinned and taped together, at once mangled and in a state of repair. Orupabo's cut-outs in paper and steel feature suspended scenes of reclining figures, floating heads, and infant bodies with adult heads reminiscent of fertility dolls, carrying arresting expressions and eyes with a reciprocating gaze. The Removal, comprising archival footage and graphics extracted from online articles, translates the artist's ethos of symbolic overlay into the realm of the moving image. These works, appearing as fractured still lifes and portraits, exist as material witnesses of the departed, summoning an unsettling past that remains all too familiar in our present.