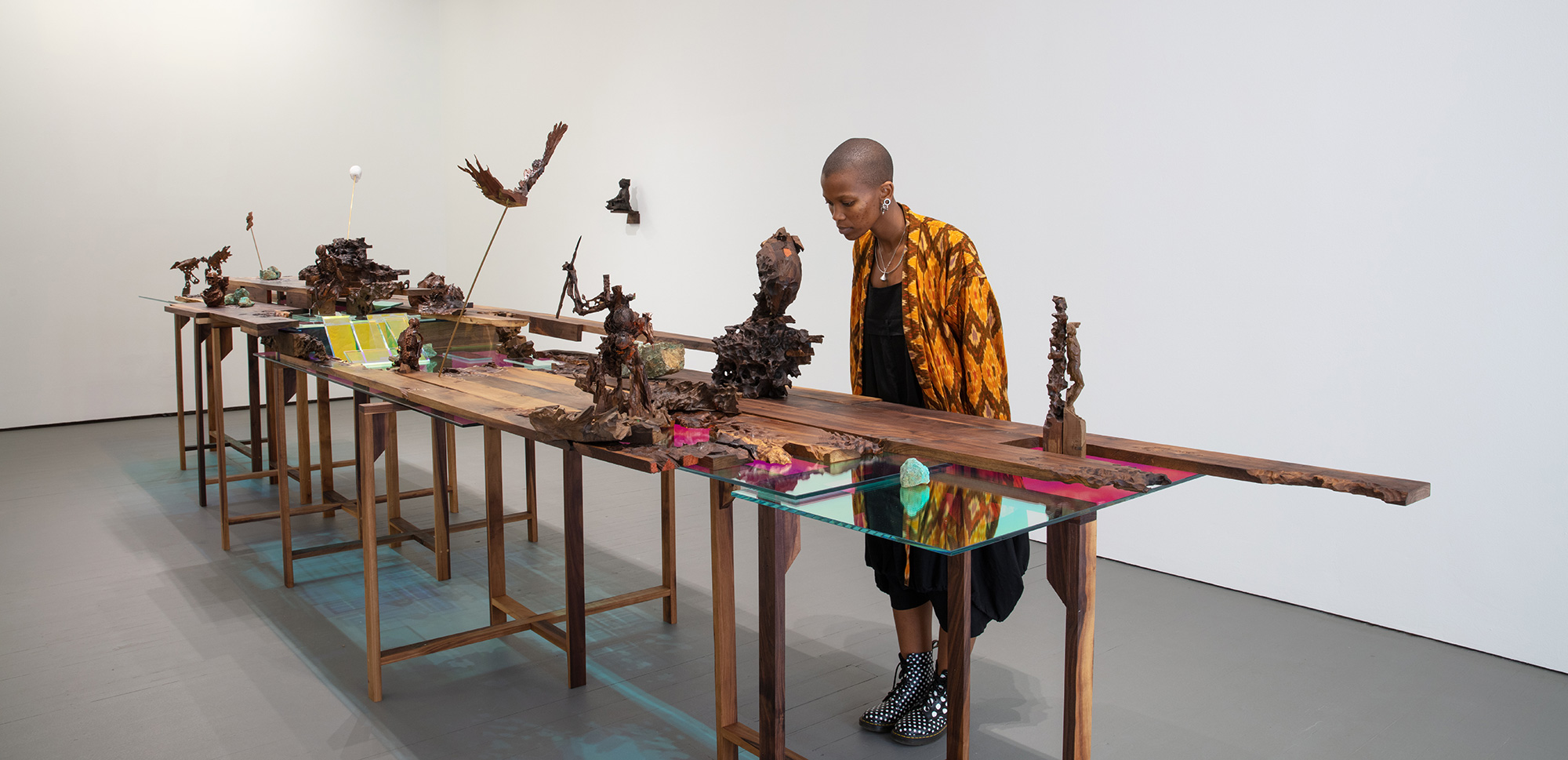 Wim Botha, The River, 2021, installation view
STEVENSON is pleased to present The River by Wim Botha. For his 10th exhibition with the gallery, the artist shows intricate walnut carvings in miniature dioramas, combined here in a single landscape. The exhibition is on view at our Johannesburg gallery as well as online - click here to view presentation.
The River is titled after the installation at its core, its materials wood, glass, marble and semi-precious stone. Individual small scenes - simple moments of contemplation, silence or activity - are positioned so as to suggest a waterway, semi-dry and ancient. The river, a potent symbol across histories and mythologies, serves as source and continuum, where the figures seem to be at peace and at leisure. Coherence of scale is disrupted in places with miniatures and larger-scale elements occupying the same plane.
The characters, with their eroded or skeletal forms, find their antecedents in Botha's previous works such as Studies for the Garden of Earthly Delights, the central installation of his mini-survey at the Norval Foundation. Botha's figuration makes allusions to forms of existence beyond linear time. Blurring the distinction between inception and annihilation, his carved entities appear to offer acknowledgement of the temporary nature of the physical form while accepting the idea of an eternity of formless presence.
Offsetting the sense of serenity is Botha's reimagining of the anguished figure of Saturn devouring one of his children, based on a painting by Peter Paul Rubens. Saturn, also known as Kronos, is thought to embody time, the ordering and passage of ages and ending cycles.
The artist writes:
This body of work was started in the last half of 2019 and is an ongoing project. The advent of the Covid-19 pandemic added a layer of nuance and immediacy since for the first time in decades we had no choice but to collectively consider the idea of impermanence as a fundamental constant.
Two individual small-scale wall pieces are shown alongside the landscape, both with filigree organic backgrounds that suggest grotto altar depictions. The first reinterprets a Roman sculpture of Silenus cradling the infant Bacchus, also known as Dionysus, the deity considered the personification of creativity, arts, passions and the domain of the subconscious. The other makes direct reference to L'Écorché, the famous anatomical study by Jean Antoine Houdon, a prominent sculptor of the Enlightenment era.
Extending Botha's exploratory interventions into classical art history, the complex dioramas in this body of work bring to focus ideas that have occupied the artist over many years to create a tableau of personal meditations. The stories, myths and parables in The River are used by the artist not as references but for their connective resonance. Botha continues:
The use of history or historical images is not an end in itself or a methodology. When one does things or makes things or thinks about things, sometimes it can feel as if there's an arrival at some profound insight into life, human nature, or whatever the case may be. However, further down the line you realise others have had that insight already; others have given form to it, put language to it, and to me this is a wonderful sensation. It links us over time, as our bones link us, to the past and to others. These ideas connect us to people from thousands of years ago; something touched them as it touches us. So I use historical images when it turns out that an idea I had or a sensation I experienced was already described by somebody else. In a way it's paying homage to that thinking and to those who have come before us.