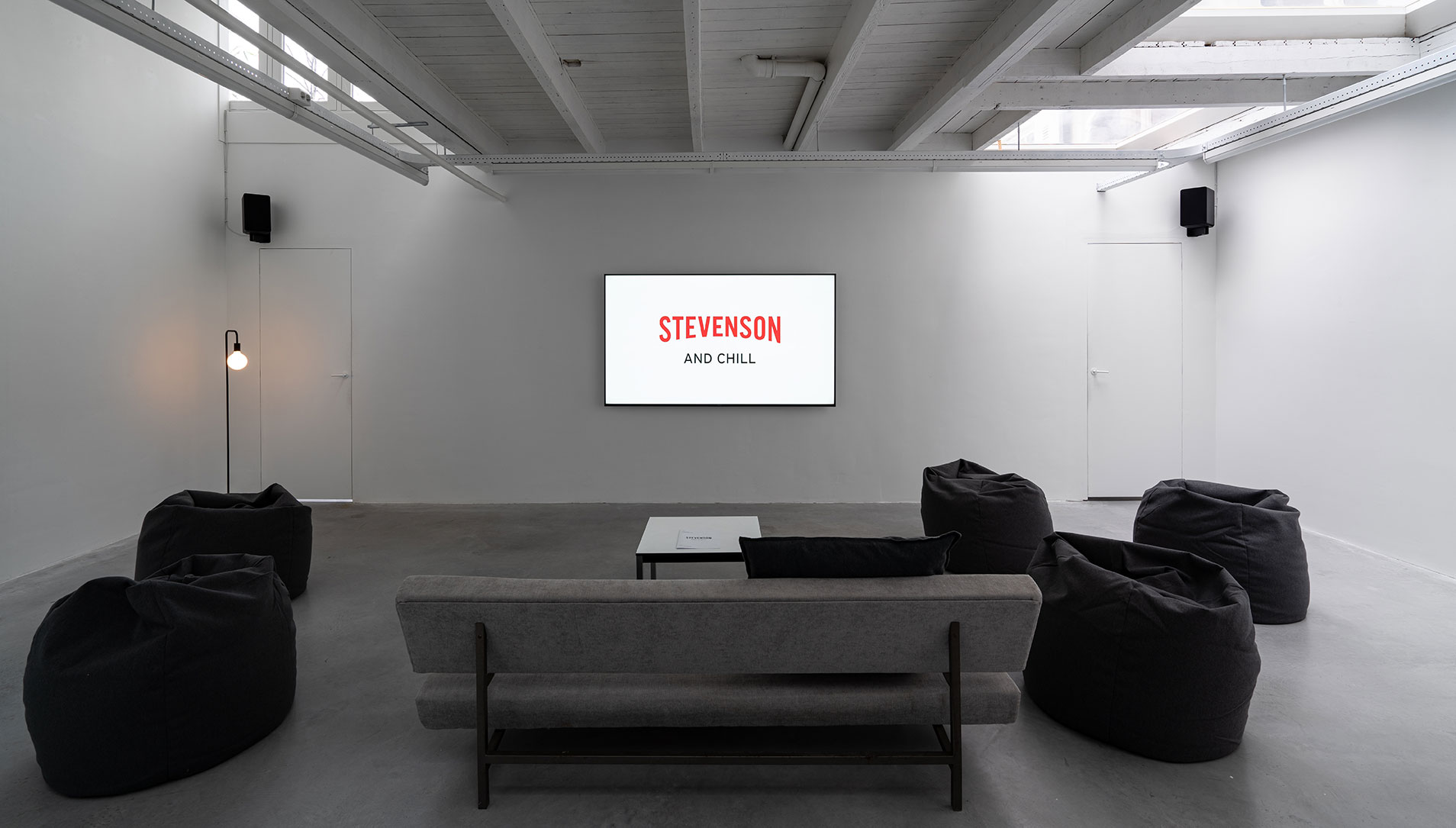 The viewing space at Stevenson Amsterdam
For the winter months, Stevenson Amsterdam will turn into a small private cinema. Upon arrival, guests will be given a 'menu' listing video art titles by artists associated with the gallery. After indicating their choices, they can settle into comfortable beanbags to watch their own personal playlist.
At several recent large-scale exhibitions in the region, from the Rijksakademie and Jan van Eyck open studios to the Watou arts and poetry festival, video demanded a central role. Yet the fourth dimension, time, often prohibits visitors from giving video the attention it requires. Simply put, the total number of hours of video in many shows exceeds the total number of hours people typically set aside for their entire visit. This means video art often fails to reach its full natural audience.
At the same time, we live in a world where video is increasingly available on demand. Whether it is through Netflix, YouTube, or the Dutch national broadcaster NPO, we are used to video being available instantaneously, where and when we want. For reasons of context and economy, this is not yet true for moving-image works by visual artists.
One of our near-neighbours, Amsterdam gallery tegenboschvanvreden, has been running an exhibition series called On Demand since 2010. We visited the 2021 edition and wondered how we could share our programme with our local audience in a similar way. We also learned about the Netherlands Art Media Institute, an organization that from 1994 to 2012 offered a similar service from their headquarters on the Keizersgracht, featuring international video artists including some of the biggest names in the discipline.
The exhibition takes its title from the term 'Netflix and chill', millennial slang for casual sex (as in, 'Would you like to come over tonight? We can Netflix and chill'). It highlights both the on-demand structure of the exhibition, as well as its informal nature. Visitors are encouraged to come as often as they like, ask for recommendations, and share the experience with friends. On set days, we will present 'Stevenson and Chill with …', presenting playlists curated by local artists and curators.
Last but not least, Stevenson and Chill is a chance for us to share a much broader cross-section of our programme than is possible through traditional (solo) exhibitions. It puts the work of some two dozen artists at your fingertips. What better way to spend the dark, cold months than to curl up in a beanbag with your choice of video art by an array of global voices?
Featured artists: Steven Cohen, Meschac Gaba, Simon Gush, Aziz Hazara, Mawande Ka Zenzile, Moshekwa Langa, Zanele Muholi, Paulo Nazareth, Serge Alain Nitegeka, Thenjiwe Niki Nkosi, Jo Ractliffe, Robin Rhode, Viviane Sassen, Berni Searle, Penny Siopis, The Bad Reviews, Barthélémy Toguo
The exhibition opens on Thursday 4 November at our Amsterdam gallery. The gallery is closed from 18 December and reopens 5 February.