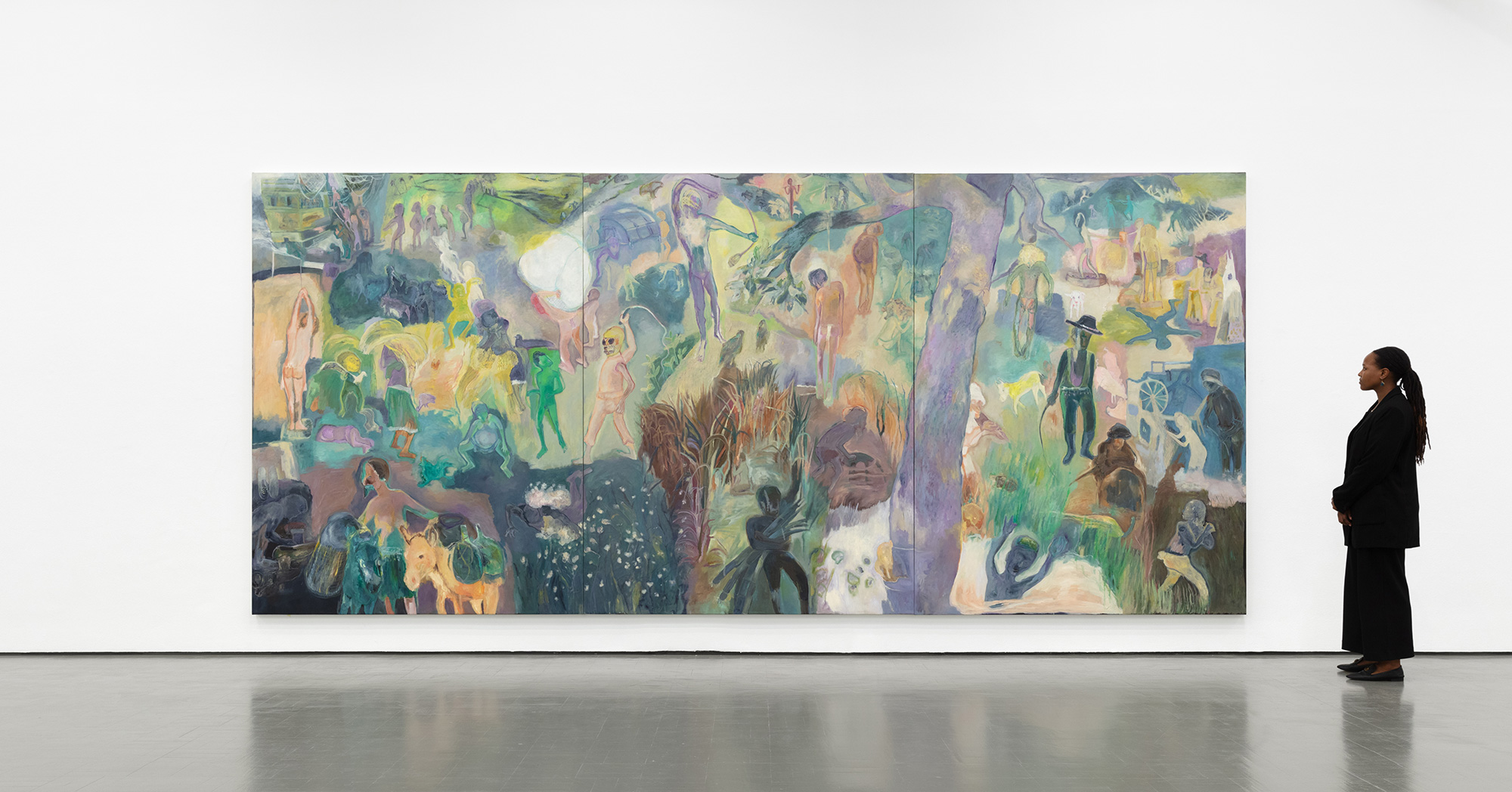 The Hushed History of Oblivion, 2023, installation view
STEVENSON is pleased to present The Hushed History of Oblivion, a solo exhibition by Sosa Joseph.
The artist's debut exhibition in Cape Town comprises new paintings that portray the stories of individuals subjected to the Indian Ocean slave trade. Rendered in Joseph's characteristic style of expressionist figuration, woven with delicate lines and loose brushstrokes, the body of work is an homage to those forgotten slaves from her neighbourhood and its surrounds. In a booklet accompanying the exhibition, Joseph writes:
I was born and raised in the Kuttanad region of Kerala, India. So was Anima. Though she was born there almost two centuries before me. When she was sixteen, she was abducted while asleep in her hut, trafficked to Cochin, and sold into slavery in that city in 1811. I was to live and work in the same city two centuries later. Naturally, when I came to know of her – from a book I happened to pick up during the pandemic – there was no forgetting.
The scenes in The Hushed History of Oblivion act as an alternative visual record of the experiences of enslaved people such as Anima. With titles such as April van Cochin and others detained in a defunct church, Cochin and Unnamed Asian slave smoking his master's pipe, Cape Town, the series both uncovers and archives these histories, bringing together moments of daily life from the most brutal to the incidental. In the large-scale triptych which shares its title with the exhibition, the figures are seen amid violence, resistance, toil and domesticity, offering a cosmology of narratives, retold using abstracted forms.
Joseph's previous exhibitions have encompassed the lives of the women of Mattancherry and the tragi-comic aspects of social life that give rise to crowds and mobs, including organised religion. Yet, she asserts in an interview with writer John Mathew, 'despite the subject matter being evidently political, my primary concerns remain painterly, my exploration artistic, my goals aesthetic … Once I decide to paint something, from that point onwards, my concerns and considerations are entirely formal.'
In The Hushed History of Oblivion, the artist uses colour and composition in subtle ways to create atmospheric, psychically charged images that convey the threads of slave histories across continents – a history that, as the title suggests, was deliberately erased. She continues:
Cultivating wheat, barley, rye, and grapes in the Cape Colony, working as porters at the port and as nurses and grave diggers at the VOC hospital in Cape Town, working cargo in the port of Manila, toiling in sugar and cocoa haciendas and the notorious obrajes, peddling sugar and other produce through the streets of Acapulco and Mexico City, they walked into oblivion, with not even their countrymen remembering them, even collectively. This body of work is for them, portraying a few of those long-forgotten people as I imagine them in moments from their lives as slaves, and presented here with the regret that I could cover only very few of them.
Joseph was born in 1971 in Kerala and lives between Kochi and Bangalore. She studied at the Raja Ravi Varma College of Fine Arts, Kerala, and the Maharaja Sayajirao University of Baroda. Solo exhibitions include Where Do We Come From? at Galerie Mirchandani + Steinruecke, Mumbai (2022), and What are We? at the Setouchi Triennale, Japan (2016). Group shows include Woman Is as Woman Does, Jehangir Nicholson Art Foundation, Mumbai (2022); Art of India, Clarinda Carnegie Art Museum, Iowa (2021); the 21st Biennale of Sydney (2018); Mémoires des Futurs / Modernités Indiennes, Centre Pompidou, Paris (2017); Kamarado, Stedelijk Museum Bureau Amsterdam and Clark House Initiative Bombay (2015); and the first Kochi-Muziris Biennale (2012). Her work is in the collection of the Metropolitan Museum, New York.
The exhibition opens on Saturday 6 May, 10am to 1pm.