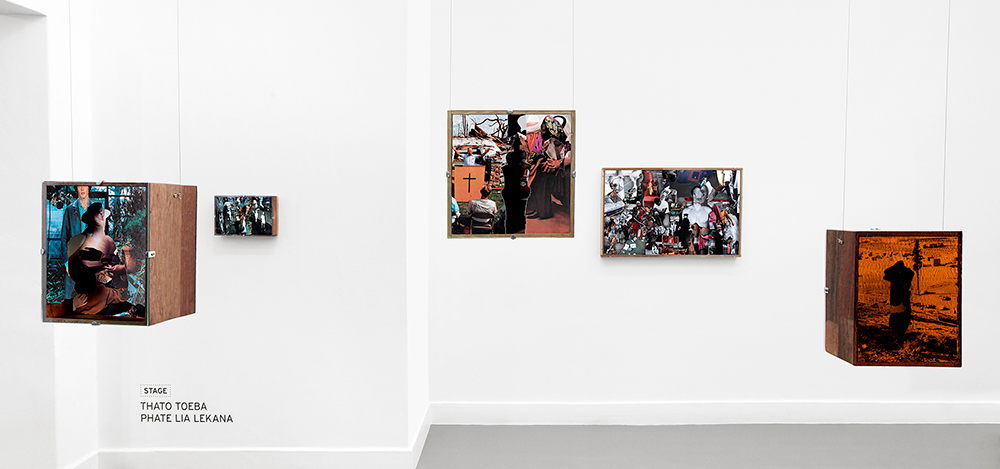 Phate lia Lekana, 2023, installation view
For the fourth iteration of STAGE, Stevenson is pleased to present Phate lia Lekana by Thato Toeba.
Taken from a Sesotho riddle translating as 'when you lie down to sleep, the earth below you is equal to the heaven above you', the title of the exhibition is an entry point into the artist's metaphor on the duality of existence. Toeba observes two worlds 'in which we exist all at once: heaven, where to live and be alive is the ultimate measure of significance, and earth, in which the meaning of one's life is the arbiter of invented hierarchies of power. In heaven, one's spirit may swell with the innate preoccupations of the soul, joy and pain, wonder and certainty, freedom, peace, torment. On earth, the political economy demands urgent materiality. To eat, to live, to have shelter, to sustain the physicality inhabited by the soul world.'
Giving material form to the allegory of two worlds, Toeba makes enclosed three-dimensional collages using their own photographs as well as others from magazines and newspapers, all held in an armature of mirrors, glass, board and wood. Following a process that is both intuitive and strategic, the artist stacks and juxtaposes pictorial matter with meaningful absence, resulting in kaleidoscopic tableaux which change depending on angle, perspective and light. The structured compositions feature figures and scenes that are visible, receding, distorting and redoubling as an entry point into theoretical conspiracies on power, knowledge, myths and being.
In Phate lia Lekana, Toeba presents her largest wall-works to date, as well as a collage installation comprising 'see-through' small-scale works that are jointly suspended to form a veil of ambiguous scenes. Featuring audio elements and reflective surfaces, viewers are invited to walk around this structure, and peer and listen into the small worlds, trying to make sense of these semi-holographic forms, and their articulations of uncertainty, paradox and simultaneity. In doing so, the artist invites each viewer to 'theoretically conspire, to speculate, interrogate narratives, weave propaganda, innuendos, truths and assumptions about the worlds'.
Thato Toeba was born in 1990 in Maseru where they live. They are an artist, lawyer and social sciences researcher working with mixed-media photomontage and assemblage.
In 2015 Toeba received an LLM from Humboldt University, Berlin and they will begin a two-year residency at the Rijksakademie in Amsterdam in 2023. The artist has exhibited in Today I wish to talk to your dreams, Mount Nelson, Cape Town (2023); Where Do I Begin, Stevenson, Cape Town (2022); and Propelling Otherness, Morija Museum, Maseru (2021).
Earlier iterations of STAGE, our platform for younger, unrepresented artists, featured Lebogang Mogul Mabusela, Mack Magagane and Khanyisile Mawhayi.
Toeba shows concurrently with Guy Tillim. The exhibitions open Saturday 13 May, 10am to 1pm.