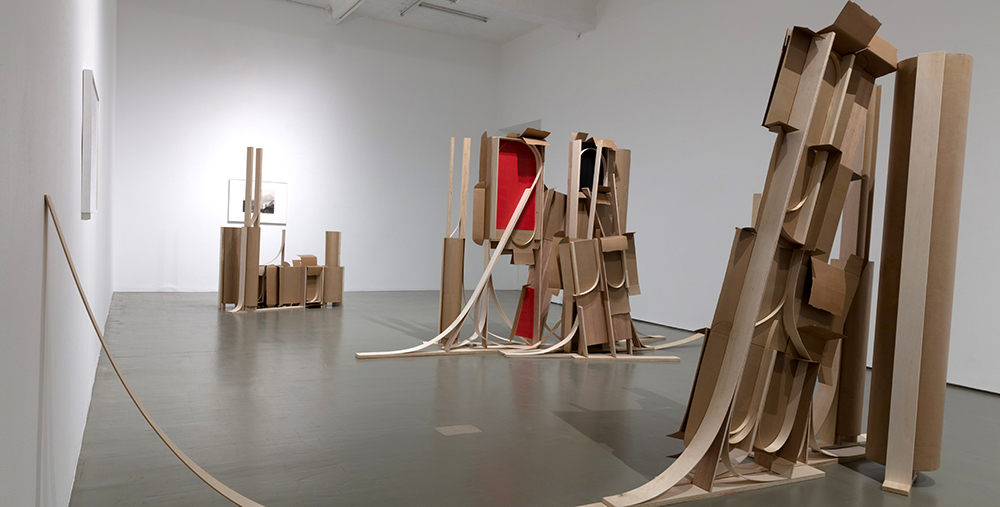 Juxtapositions: David Goldblatt and Unathi Mkonto, 2023, installation view
STEVENSON is pleased to present the work of Unathi Mkonto and David Goldblatt in the second iteration of Juxtapositions, the gallery's series of idiosyncratic two-person exhibitions.
Interspersing new sculptural installations by Mkonto with photography by Goldblatt, two artists jointly preoccupied with the urban landscape and human trace within it, offers a discussion on spatial politics and power.
Goldblatt's inquiry on how architectural and urban structures reflect the socio-political ones has been a life-long journey; first with the series South Africa: the structure of things then which he produced post-1994, collecting more recent works under the series Structures of dominion and democracy, which also served as a title of a major retrospective in 2018. The earliest of the monochromatic images selected for Juxtapositions was taken in 1975 and the most recent in 1989. Across these, the photographer captures everyday locations - street corners, houses and shopfronts - in stark tones and adds detailed captions to locate these within time and communities. In his interplay of information and omission, Goldblatt foregrounds the subtleties of the story of each individual structure. In 2018, he wrote:
Embedded in the stuff of all the structures in South Africa, are choices we and our forebears have made. No building, shack, skyscraper, road, township, walled estate, dorp, city, monument, sculpture, artwork, computer, cellphone or, indeed, anything made by humans, can exist but for choices that gave rise to it and others that are a condition of its continued existence. The choices and the values from which structures derive, all enter their very grit and may be deducible from it.
In juxtaposition, Unathi Mkonto presents a new body of work titled Returnable, constructed with cardboard, wood and paper. The artist describes himself as working in a modernist idiom, with his visual repertoire specifically finding inspiration in found and industrial forms. His pillars, blocks and towers – created from the waste of industrial textiles and flat-sheet packaging – are conceived as a language that begins with a sequence of lines and drawings. Throughout his process, the artist plays with tension and harmony as part of an ethos of 'anti-architecture'. Mkonto defines this concept as a process of assembling structural forms in line with psychic states rather than as a replication of the built environment. He writes, 'The experience in this work is that it's built by more than blocks but emotions. Rather than constructing for function, one could construct for emotional needs.'
For Mkonto, each construction marks a chapter in an ongoing story. On his idea of return, which encompasses not only the relationship of the material to the viewer but of the structure to the greater landscape, Mkonto continues:
Material is a way of creating language or reading. The world I've created is developed from everyday forms, planes and order; sets of lines closing to become circles and making up a sentence. In this particular work, I'm interested in the idea of architectural collages, layering spaces such as placing a shop facade over a mineshaft, a mansion on top of a grave, or graffiti painted over historical landmarks. Different fonts are found as new materials are introduced, but sometimes the conversation is silent and extends into performance. Some parts of our history cannot be said but can only be illustrated in form.
The exhibition opens on Saturday 6 May, 10am to 1pm.