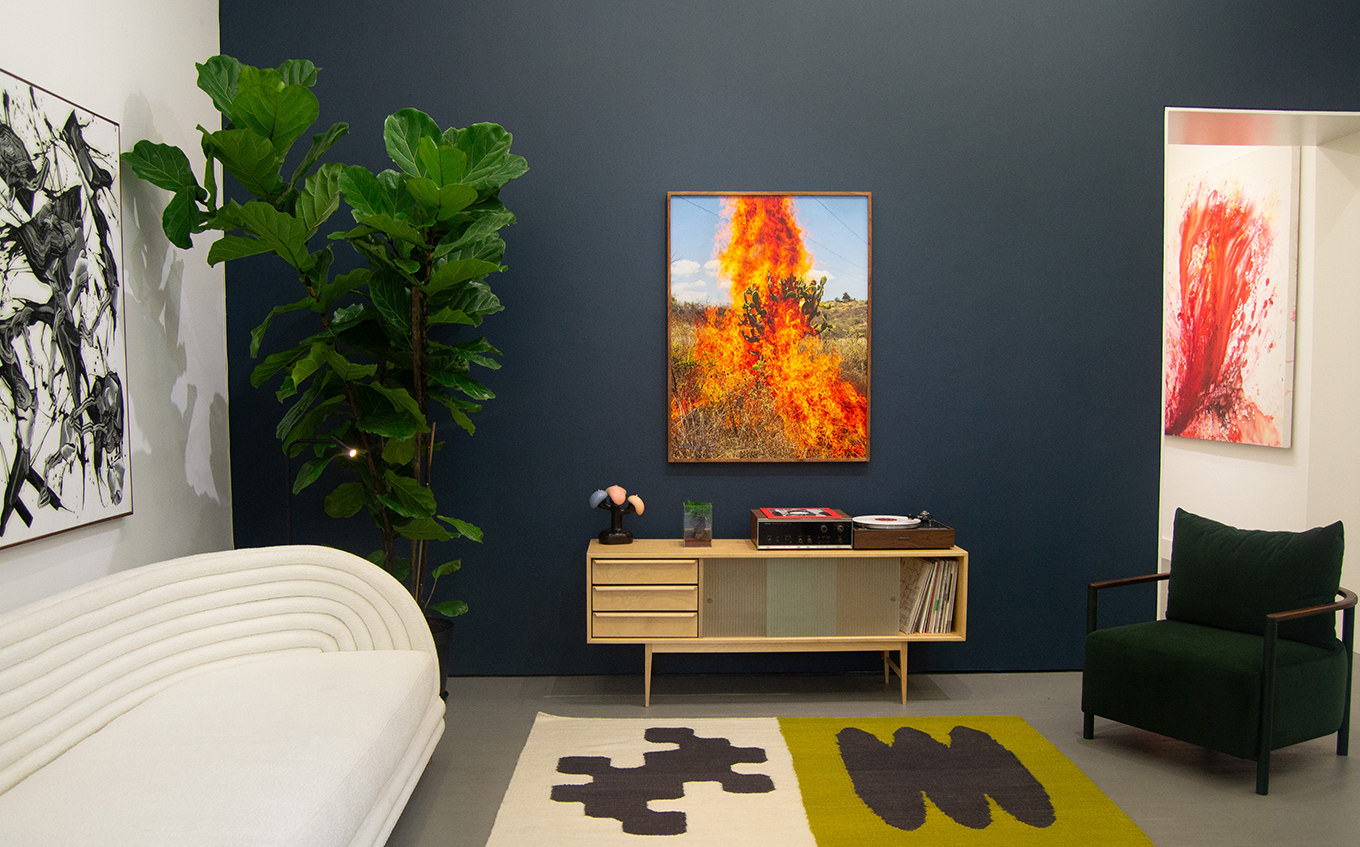 The Clubhouse, 2023, installation view
For winter 2023, Stevenson Johannesburg becomes The Clubhouse, turning our spaces of viewing into places for connecting, reading, listening and seeing. Click here to view the online presentation.
The former Parktown North home was converted into the current gallery space in 2019. It now reverts to its domestic origins through furniture, lighting and decorative elements sourced from established and emerging local designers.
The galleries are turned into the common spaces of 'the study', 'the lounge' and 'the dining room'. The first, constructed as a space for quiet, is stacked with special-edition and recent books on art and design. The lounge – stocked with vinyl records and a turntable – provides a space for communal repose; and the dining room, which features an installation of Deborah Poynton's Arcadia, acts as a venue for congregation and conversation.
Tonic Design, who were instrumental in designing the original gallery space, provide the anchoring furniture pieces. Plants are supplied by JFF Plant Shop and supporting fixtures are sourced from designers including Arrange Studio, Bofred, Ex Hotel, Joe Paine, Mash.T Design Studio, Mema designs, Nindya Ceramics, SMTNGGOOD x Bevan de Wet, The Ninevites and Viawax. Featured artists include Joburg Ash, Zander Blom, Wim Botha, Githan Coopoo, Georgina Gratrix, Ian Grose, Simon Gush, Pieter Hugo, Neo Matloga, Unathi Mkonto, Georgia Munnik, Hylton Nel, Thenjiwe Niki Nkosi, Deborah Poynton, Robin Rhode, Viviane Sassen, Penny Siopis and Portia Zvavahera.
Each room in The Clubhouse is activated with site-responsive programming around literature, music and food, turning the gallery into a public space where all can spend time. The study hosts the Joburg launch of ArtThrob's 25th-anniversary publication, alongside a show of prints by Dineo Seshee Bopape, Turiya Magadlela and Tracey Rose from their edition series. The lounge will present an album listening session, and the dining room becomes the venue for the first Lunchbreak talk with Wits University's SWOP (Society Work and Politics Institute) as well as the second Table Talk gathering, forming part of Soho House's Cities Without Houses programme.
The Clubhouse opens on Saturday 8 July, 10am to 1pm, with sounds by Womlambo and drinks with Ex Hotel.