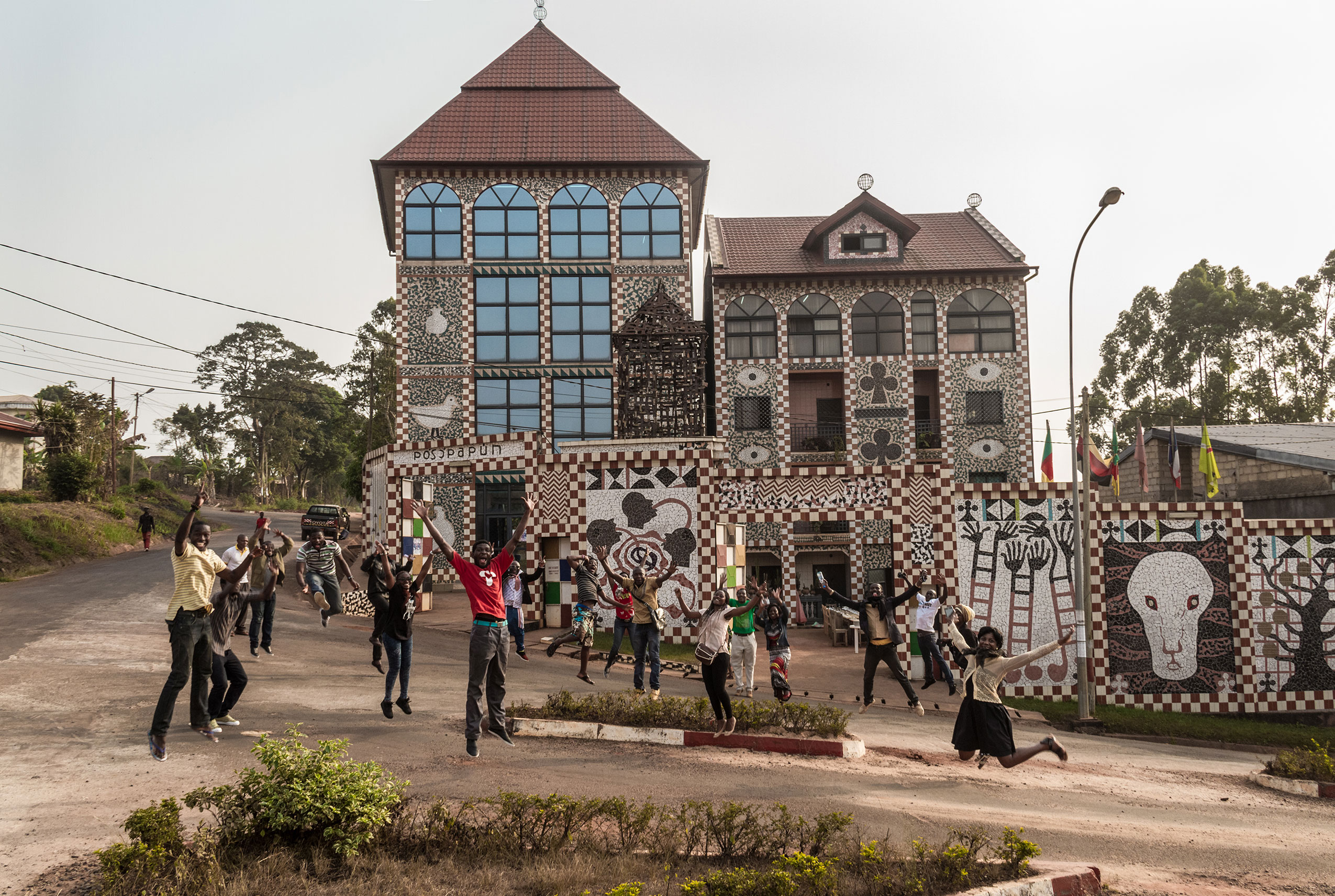 Bandjoun Station, the arts centre founded by Barthélémy Toguo in Cameroon
STEVENSON is pleased to present Life on Earth, a solo exhibition by Barthélémy Toguo.
This exhibition is the first occasion in which Toguo will exhibit a series of mosaic works reminiscent of the large-scale murals that cover the walls of Bandjoun Station. This centre of the arts was conceived by the artist in 1999 in the heart of Cameroon, and since 2007 has served as a platform for creative and agricultural activities, in response to what Toguo terms 'the failure of cultural projects on the African continent'. One of the first institutions of its kind, the centre is a kunsthalle, townhall and resource centre, and it is both an incubator of Toguo's ideas and an extension of his practice. As he has stated, 'I discover another life when I'm in the community … My work has to be about the people and the community. The community gives meaning to my work.'
The exhibition is concurrent with two major presentations by Toguo in the French city of Nantes. Expression(s) décoloniale(s)#3, at the Nantes History Museum, acts as an amplifier of the artist's deep social concerns, and to this end, Toguo invited five artists – Jean-François Boclé, Moreira Chonguiça, Rosana Paulino, Monica Toiliye and Kara Walker – to join him in scrutinising colonial histories and structures while celebrating the 'fundamental power of life, as vigorous as it is unexpected'. Habiter la Terre ('Inhabiting Earth'), at HAB Galerie, which showcases Toguo's works across mediums, is described by the curators as an expression of Toguo as 'an insatiable traveller who feels concerned with the inequalities and crises that the entire planet must face'.
Toguo first attended art school in Abidjan, Ivory Coast; in 1993, with the help of a Cameroonian state grant, he continued his studies at the École supérieure d'art in Grenoble, France, and then at the Kunstakademie in Düsseldorf, where he was mentored by Fritz Schwegler and Klaus Rinke. His unique combination of universal concerns and regional visualities led to a rise in international notice, first by Hans Ulrich Obrist in 1999 for Migrateurs at ARC, Paris, and in 2000 by Jean-Hubert Martin, leading to his participation in the Lyon Biennale, Partage d'éxotismes.
In 2004 Toguo was introduced to the Parisian artistic community through his solo exhibition The Sick Opera at the Palais de Tokyo. The show was curated by Jerome Sans, director and founder of the space, which had been inaugurated two years earlier. At the time, in an interview with Sans, Toguo described the flux of existence as the propulsive force behind his practice, affirming, 'Life and its celebration remain my obsession, the source of my inspiration daily. My projects... they're born and live from day to day.'
Included in The Sick Opera was a series of photographs titled Une autre vie ('Another Life', 1993–2000), begun during Toguo's time in Grenoble. These performative photographs show the body in relation to felled and dismembered trees, convey an abiding, sustained engagement with humanist and climactic concerns. As he recalls,
I spent my childhood in Africa in a city where there were a lot of shops and transporters of cacao, coffee and wood. I was fascinated by the exchanges I saw taking place in front of me on the different markets, and, above all, by the huge trucks, those 'monsters' as they are called over there, which transported all these goods.
Toguo's expression of ecological empathy is further explored in new paintings. As has become characteristic of his language, he lets the ink bleed across the surface of the canvas in a fluidity akin to watercolours – allowing the medium to act as a metaphor for his experiences of the Anthropocene, spanning trade, the social toll of climate change and humankind's fraying relationship with the natural environment.
The exhibition opens on Saturday 19 August, 10am to 1pm.