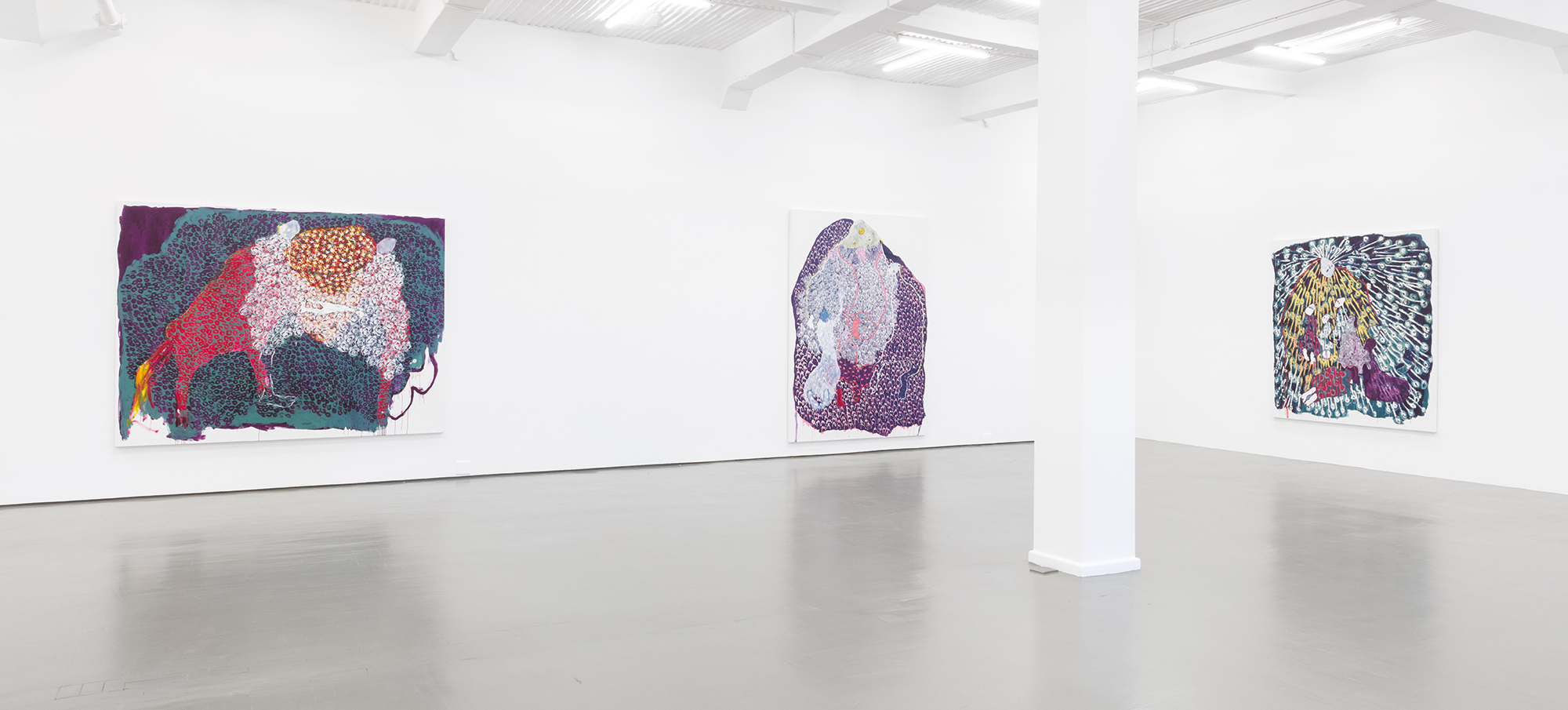 Portia Zvavahera, Ndichasvika Rinhi Ndionekwe (When will I arrive and be seen), installation view
STEVENSON is pleased to present Ndichasvika Rinhi Ndionekwe, a solo exhibition of new paintings by Portia Zvavahera.
In this latest chapter of her autobiographical dreamscapes, Zvavahera is concerned with a family's pleas for salvation, which she attributes to her mother's illness and journey to recovery. Filial dynamics of care and grief are overlaid with a spiritual longing in these new visual prayers, rendered in the artist's characteristic layering of painting and printmaking. In articulating her guiding approach, Zvavahera cites a Psalm from the Bible: 'As the deer pants for streams of water, so my soul pants for you, O God. My soul thirsts for God, for the living God.'
Ndichasvika Rinhi Ndionekwe, translating from Shona as 'When will I arrive and be seen', weaves a narrative of trepidation, tenderness and fortitude. In some paintings figures are depicted on bent knees with upturned faces while tending to the injured matriarch, and in others, the family is shown standing over their bull-like antagonist – a recurring archetypal expression within the artist's image repertoire. In the artist's words:
I want to find refuge under Your wing. When sickness comes I don't want to be afraid. When pestilence comes in darkness, I don't want to be afraid. When arrows are thrown at me by day, I don't want to be afraid, because You are with me. Let the angels bear me up on their hands so that I don't fall.
Inspired by time spent in Mauritius for Walk of Life, her small survey exhibition at the Institute of Contemporary Art Indian Ocean earlier this year, aquatic motifs such as corals and seashells now appear as patterns within Zvavahera's images.
Ndichasvika Rinhi Ndionekwe is Zvavahera's seventh solo show with Stevenson. In September/October 2020 she exhibited in the Upper Room at David Zwirner, London. In early 2021, she will feature in The Power of My Hands, an exhibition of works by women artists examining the relationships between 'memory, family, tradition, religion and imagination' at the Musée d'Art Moderne in Paris, part of France's Africa Season 2020.
The gallery is open by appointment Monday to Friday 9am to 5pm, and Saturday 10am to 1pm.
Click here to schedule a visit